Last Saturday I went to Amsterdam. Again.
This time the main goal was not recording video's in my studio but to take some old school street pictures. One cane talk about it for just so long and then you have to walk the walk. Otherwise no-one will ever believe you again.

This day started at the rail-road station.
The platform was crowded.
The train late. Way too late.
I expected to see an interesting image in that crowd. So , I was a little disappointed being not able to see that image.
I turned around and looked at the other platform, at the other side of the track.
Jackpot!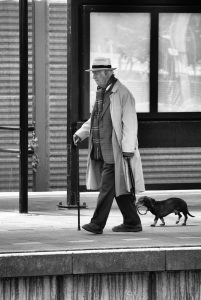 He was walking there.
With his dog.
How could you possibly not take this picture?
These are those presents. These are the moments I live for.
I admit: composition could be better. Contrasts could be better. Well, that is: the gray wall in the back could have been a little brighter or darker. But somehow I didn't had the chance to roll in the studio-lights.
The beauty of street photography is: What You See Is What You Get.
This is the kind of image I hope to shoot once a year. This year it's in the pocket already!
In Amsterdam I saw two, rather nice, images. Not the same quality as the "Man with Dog", but rather nice.
On the photo on the left a lady with her phone in front of the sign "NL EU2016 Amsterdam", on the right a young man preparing is for Hell and Damnation. Personally I think the left one is the best. Composition is better, contrasts are better. Maybe some more detail in the skies would be nice. Can do that. Later. The man in the right image disappears in the crowd in the background.
Then my walk started. I took some "takes" for a film I'm working on. In the meantime I was looking for great street-pics.
There she was, all of a sudden.
In front a department store (De Bijenkorf).
Big advertisements in the background.
The only thing I had to do was wait until everyone was gone, except for her.
A beauty.
If I may say so…
I guess this was One of those Days…