Social
Get connected and participate!
Meet other creative people. Wether it's about photography, painting, dance, music or any other form of art. Amateur or professional, meet people from all over the world and start collaborations. Best part of it: it's free!
At Brikaer Productions a Creative Platform is being created. It's heavily under construction but you can sign up and participate NOW!
We can use some help though: moderators, specialists, administrators, developers, designers…
Watch this video and learn how you can help. Or go to Brikaer Productions and register right away!
Free e-Book!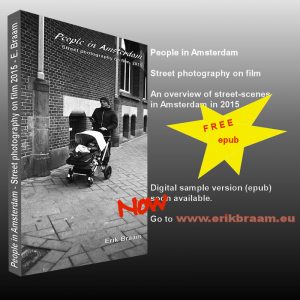 Finally! It took a while, more than I expected, but here it is:
My e-Book!
In this book an overview of my best street images of Amsterdam in 2015. All images were made with a analog camera.
Subscribe to the news letter and download the book for free!.
---
Read the blog
On this site I try to update my blog once a week. More or less. There you can find the most recent pictures I took and read the story of the process.
My view on Street Photography
---